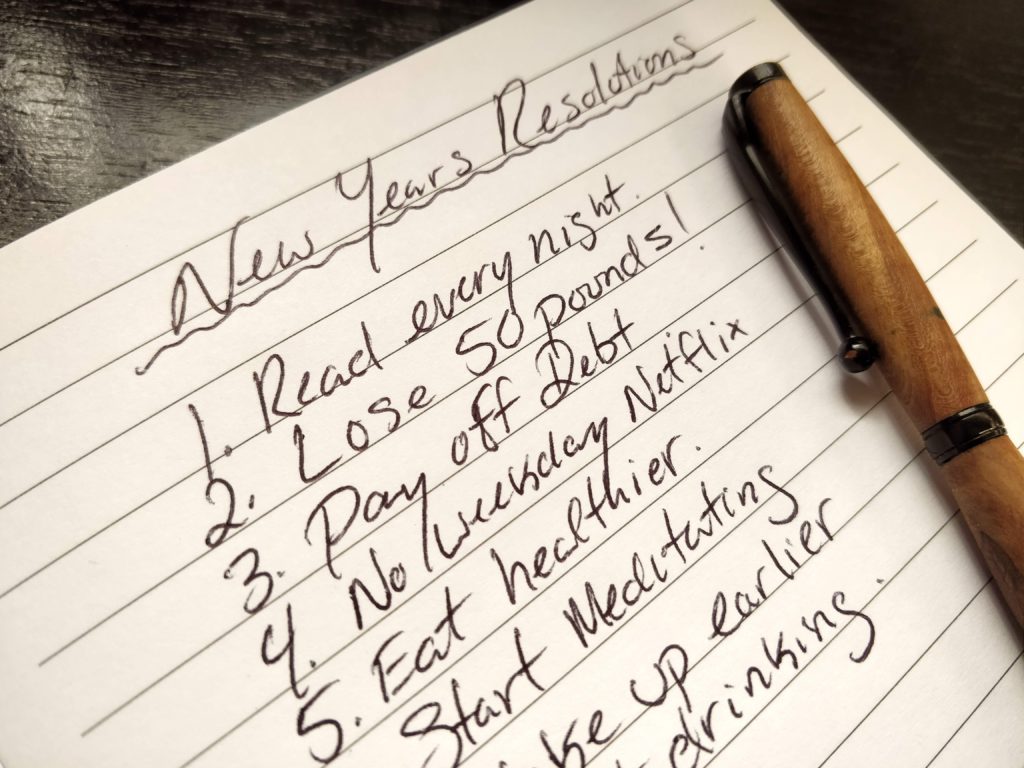 Setting New Years resolutions…  that lovely train we jump on year over year.  No one really tells us to make these for ourselves, yet it's become something so ingrained within our culture.
The new year is here and the collective consciousness seems to have this focus on what we can do better this year, how we can change and what goals we are so determined to achieve.  Yet, why do we so consistently fail with our new years resolutions?
Giving up on New Years Resolutions

According to a study conducted by the University of Scranton (Pennsylvania, US), nearly 80% of people that set new years resolutions, have given up on them by mid February.
80%?!….  Now, I had a feeling it was going to be over 50% within a few weeks, but this was quite shocking.  The obvious question here is, why does this happen?
We can't simply pass it off as lack of motivation and drive,  there must be more to it.
The Reasons so Many of Us Fail
The personal reasons people have can vary greatly.  Though the trouble is, that there is both what we're open to admitting, and then there are the deeper truths.  In many cases, those we aren't consciously aware of.
I'm going to break down the following reasons to give you a better understanding of why new years resolutions don't work.
Your goals were too big.
No structured plan for achieving your goals.
Lack of a support system
Lack of Prioritization
Fear of failure
Your New Years Resolution Goals Were too Big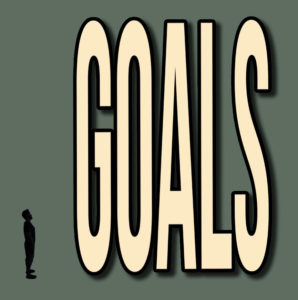 Big goals are great, but when the "motivation" wears off halfway through January, they can seem increasingly intimidating.  The end result of which turns into abandoning our new years resolutions.
Don't get me wrong, I'm a big proponent of having goals.  Weekly, monthly, yearly and then of course, big picture goals.  I believe its imperative to have something to strive for, to move forward, and grow in life.  Though, regardless of how big or small it is,  you've got to break them down into achievable smaller goals.  This in essence,  is an important step to build the latter to achievement.
As an example: lets say you want to establish the habit of reading for 30 minutes every night, but you can't seem to flow into this.
Going from 0 to 30min, and achieving this every evening is where the trouble lie's.  In order to break it down, find the simplest thing you can do to make it mentally easier to say "yes! I'm going to do this"  You can make this as simple as you want.  Either starting with 5 minutes, reading 5 pages, reading 1 page, or even just holding the book in your hands for 1 minute.  I know that might sound ridiculous, but that's the point.  Break down the goal to a level that can be seemingly silly to you.  This way you have no other option but to say "Alright…  I can definitely do that".  Then commit to it and build up from there.
This brings me to my next point of why we may give up on our new years resolutions.
You Need Structure to Succeed in your New Years Resolutions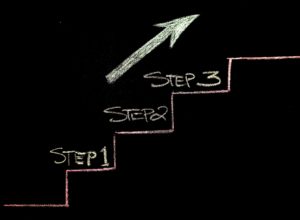 Breaking down your goals into achievable bits as mentioned above, is a foundational step, but what's next?  Your chances of giving up are still relatively high without a structure towards the end goal.
Laying out a plan and holding yourself accountable, by having weekly and monthly checks-ins are aspects that people generally lack.  Leading to … you guessed it, saying "Adios" to your new years resolutions.
Sit yourself down and take the time to write or type out a plan.  Whichever you feel is best for you.
Using a journal for this on a daily basis will help immensely!
Example continued:  Week 1; read one page a night.  Week 2; double or triple the amount of time you're reading.
Set these targets for yourself and track your progress.  You could do this tracking at the end of the week such as on a Sunday.  Take 5 minutes to review your achievements thus far and build up to the next step you are going to take.  Before you know it, you'll have formed the habit of reading every night.
Do this as slowly or as quickly as you wish to work your way up to your goal.
Lack of a Support System
Not having a support system is a terribly easy way to fail at your new years resolutions.  The reason being, is that it takes serious time and devotion to develop your self-discipline.  The discipline you need to succeed at pushing yourself towards your goals.  Though, even with a well-developed level of self-discipline we can benefit greatly from having a support system.
Some of the biggest movement I've made in my life recently, has happened through support systems.
This could come in the form of joining an online community – such as a Facebook group geared exactly towards your desired achievements.  Also, by subscribing to an online course or program that could help you get there, surrounding yourself with like-minded people, etc.
There's tons of variety out there depending on whether your lifestyle is best suited to physical or digital interactions to help you on your way.
Lack of Prioritization:

Now, I don't really know how to go about saying this gently, as I might be ruffling some feathers here, but its really important that I get this message across.  When we say "I don't have the time" we are flat out lying to ourselves and those around us.
It's time to take responsibility instead of using this "I don't have time" excuse.  When we say that we don't have the time, the truth is that we are choosing not to make it a priority.
This human condition of creating new years resolutions and soon after not prioritizing them is interesting to say the least.
"I don't have time to work out", " I don't have time to cook and eat healthy", " I don't have time to learn this new skill"
Ask yourself how much time do you spend:
Watching TV, YouTube or Netflix
Mindlessly scrolling through social media
Busying yourself with various distractions
Now, we've all been guilty of this at one point or another and likely we still have numerous outlets that take up our time whether we acknowledge they are essential or not.
In order to address the importance of these outlets  Just ask your self :
How important are the goals that you've set for yourself within your new years resolutions?
What are you willing to "trade-off" to work towards achieving these goals?
Are these trade-offs worth it?
Are you worth it?
It's important for us to really step back and reflect on such things.  After all, we made these new years resolutions because there is an importance to us.  We want to make these changes, because we innately know that our lives will benefit.
Fear of Failure
It can seem a bit odd that our own fear of failure can cause us to quit.  After all, isn't quitting failing? Or is it just the easy way out.  Maybe it's a way that we trick ourselves so that we don't feel so bad about failing after putting in all that effort.  When it comes to our new years resolutions, the biggest reason you need not fear failing has everything to do with how we look at failure.
We can look at failure in two ways:
Either with fear or as a potent tool.
Fearing the feelings associated with failure and mentally beating yourself up for not succeeding. 
Or
Addressing what caused it, how it happened and how you can use this as a learning experience. 
Experiencing Failure is How We Succeed
Thomas Edison failed 1000 times when attempting to create the light bulb.  1000 times !  Now that's perseverance.
Obviously many people thought he was foolish to persist with his goals.  And when asked how it felt to fail 1000 times he responded with: "I didn't fail 1000 times… The light bulb was an invention with 1,000 steps." 
Use the knowledge that you gained from your experience of "failure" and don't get so lost in feeling bad towards yourself.
Your Ability to Change can Come at Any Time
Our New years resolutions are completely individualized.  The example I used at the beginning of reading every night was simply one of my own goals last year.  Whether you want to lose 20 pounds, quit watching Netflix on weekdays or climb Mt Everest – these goals are an important aspect of your growth.
It doesn't matter that its February and you've quit or you've made it much further.  Every moment is an opportunity to take back control of your life.
I hope that you can reflect on this article and how it may relate to your current life, or that of your past to help you make new decisions in the direction of achievement.  To grow into a new you.
The natural desire within us to grow can be a powerful force.  A force that's quite a necessity to our well-being in the pursuit of happiness.  If you think to a time when you may have gone through a long spell of depression you likely felt stuck. Living in stagnation without a sense of forward movement in your life.
Take a moment to reflect on past failures that you may have allowed to envelop you into feelings of hopelessness.  Do you really think that playing this same loop again in the future is going to give you a successful result? I certainly hope not. The best part here is that you don't have to wait until next January for this!  Every day is another opportunity to start fresh!
If you prefer to go through the tips in a more visual fashion check out my YouTube video 🙂