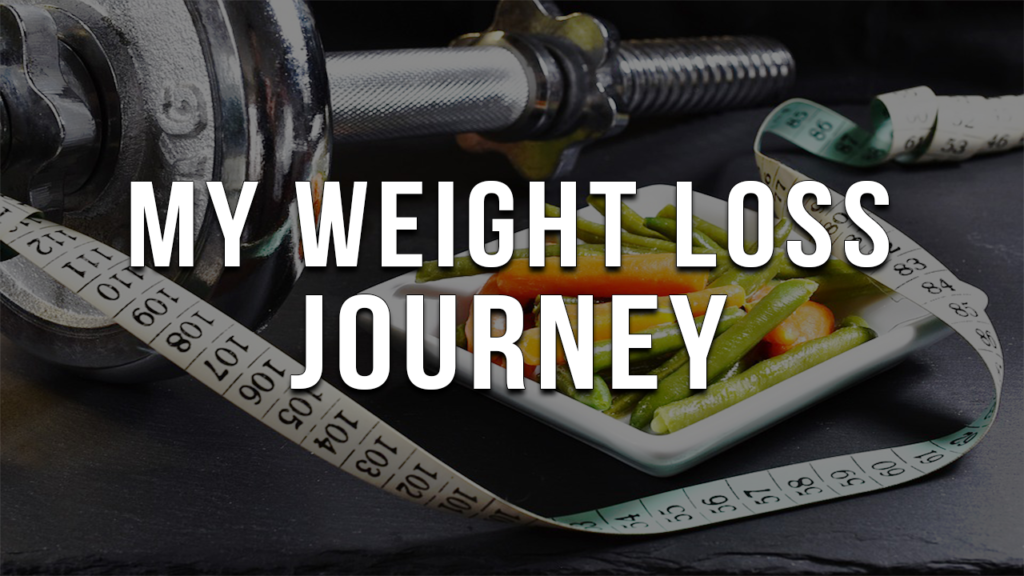 Body image and weight loss is something that many people struggle with.  Imprinted in our minds through various means as we grew up within our social circles and the media.  I would like to share with you my weight loss journey and the various challenges I faced throughout this time.
My Weight Loss Journey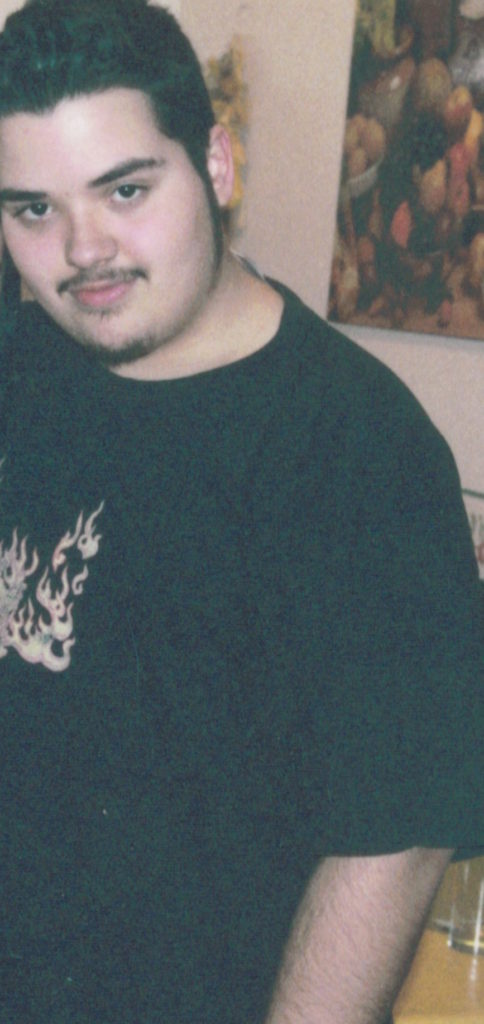 Like many of you reading this, I've struggled with being overweight throughout my whole life.  This was brought on by many factors.  From low self-esteem, emotional eating, to not taking responsibility for the choices that kept me in that place.  A place of struggle, feeling sorry for myself and just accepting that I was going to be this way for the rest of my life.

I had a very negative image of myself growing up.  Internally there was much self-judgment, low self-esteem, shyness etc.  Furthermore, the outside world didn't help.  In school, I was in a constant state of anxiety.  Worrying about the next "fat joke" that would come up, or bully that would use my low self worth against me. This further led me to feel that much more shame about my body.
The Start Of My Weight Loss Journey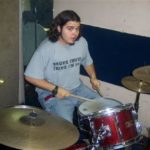 In 2005, I decided that I was going to make a big change.  I had known this desire, this hope and dream for far too long, yet I never saw it within reach.  That year, weighing in at  240lbs (at my height of 5"7) I was at my heaviest.  This was devastating to me, so I took initiative! My weight loss journey had begun.  I cut out all fast food, sugary drinks and drastically increased my activity. From cycling to weightlifting, combined with a lot of high tempo punk rock drumming in the band that I was in.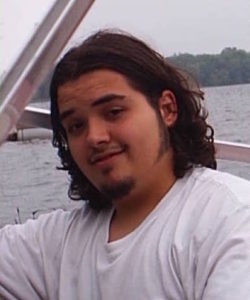 Unfortunately, I don't actually have any shirtless photos to show me at 240lbs.  Or maybe it is fortunate, as it wasn't the prettiest site to see.
During that time cellphones just started to have color screens and blackberry phones were quite popular.  Even digital cameras were only 3MP and cell phones could barely take photos.
1 Year into it I lost 50 Pounds!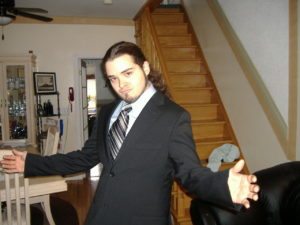 Even without paying any attention to my caloric intake, I managed to drop 50 lbs that year. The feeling was incredible!
Knowing that I wasn't carrying around all of that extra weight was a huge psychological benefit.    
Afterwards, I continued for years with my weight fluctuating between the 180 – 150-pound range.  And I couldn't figure out what I needed to do in order to find stability in my weight…  at least that's what I told myself.

Struggling with Self
Ima
ge
There are many factors that can keep us from achieving a major goal; such as getting to your ideal weight, or going beyond and achieving an athletic figure. In my experience, it all boils down to one major thing… your self-image.  You see, within your subconscious mind, you have this image of yourself. And this image is surrounded by dense a web of other interconnected beliefs. These beliefs are weaved into one another reinforcing that self-image.  Making it very difficult to achieve the goals within your weight loss journey, let alone the tougher part of maintaining it for years to come.

Negative Self-Image Mind Chatter 
"I could never do that, I'm so fat, I don't believe in myself, I wish I had more confidence, I can't talk to women, No one likes me, I'll always be fat"
For anyone wanting to achieve their weight loss journey goals, any negative self image mind chatter needs to be addressed.  Our conscious mind has the desires and knows what it wants for the most part.  The trouble is the subconscious mind, where your self image is ingrained.  This is the inevitable director that plays the role for people rebounding right back up to where they started.
Your self-image goes far beyond that of what you look like, but I'll save that for another article.
According to cognitive neuroscientists, we are conscious of only about 5 percent of our cognitive activity, so most of our decisions, actions, emotions, and behavior depends on the 95 percent of brain activity that goes beyond our conscious awareness. [1]
The Me I see, is the Me I'll be
When it comes to self-image the biggest message I need you to take away from this is the following;  No matter what diet you go on, no matter how much discomfort you put yourself through;  If you don't alter your self-image within your subconscious mind, you will not be able to sustainably maintain the desired weight that you achieve… if you even achieve it.
Find the Root Cause
I literally put myself through hell and back with dieting and exercise.  The fat loss programs, fad diets and painstaking training of which I would never suggest to any friends or clients of mine.  And all that work (at best) just produced mediocre results.  Results that left me feeling depressed, hungry, tired and of course bouncing right back up in weight through emotional eating and stress.
One of the strongest beliefs that I had developed over the years still makes me laugh just thinking of it.  I would tell myself that  "My genetic ancestry must have been so efficient at storing body fat."  I perpetuated this lie within my mind and outwards to other people for way too long.  
Having a better understanding of the major factor in my weight fluctuations, I decided to take responsibility for this. Throughout the next decade, since 2005 I slowly formed new belief systems.  This was seriously deep work which took on many forms that I will certainly be sharing throughout the evolution of Next Level Warrior.

The Next Phase of my Weight Loss Journey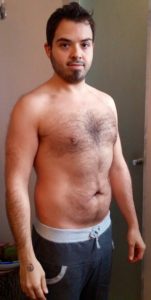 In 2015 I decided to take further responsibility for myself via numerous means;  Researching intermittent fasting and exercising smart in addition to being accountable for the food I was consuming through macro counting.  Using these tools, I was able to make huge progress towards my goal of seeing my abs for the first time in my life. 
The process was long.  And I certainly made plenty of mistakes, but the inevitable progress really helped me to chip away that BS belief mentioned above.  Resulting in learning not only how to transform my body but how to do it in an enjoyable and sustainable way.
There was much more behind the scenes that I was doing throughout this time.  Which, in the later part of my life played very important roles.  I adopted personal development methods through affirmations, meditation, stress management, expression and pushing through the stagnancy that was so familiar to me.  These aspects of self-improvement are certainly not necessary to achieve what can be done strictly through scientific/measured means.  However,  they've brought me to the place I'm at right now with exceptional health, well being and were certainly an integral part of the biggest key to altering my self-image.
Moving Forward
Disclaimer – No matter how far along you make it in achieving your goals and living a much happier life we will always be working on ourselves.  I say this avoid painting the picture that I am this depiction of what perfection is within any human being.  The reality is that we all screw up and old bad habits in any form can definitely resurface.  The light here within that darkness is that with consistency, we develop the methods to pull our selves out of those "funks".
Throughout the two years following the winter of 2015;  with much dedication, hard work, and discipline, I did it!  I realized that it was possible! The realization that I wasn't bound by this limiting self-belief of "my fat storing genetics".  I had finally transformed my body to the point of seeing my abs for the first time ever!  Dropping 100lbs of fat down to 140 lbs.  I had more strength than ever before in the gym, more flexible, increased mobility, and most importantly; I was mentally stronger than ever!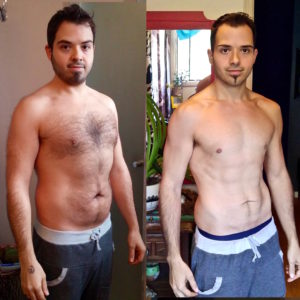 Making Changes
Incredible change happens in your life when you decide to take control of what you do have power over instead of craving control over what you don't.

-Steve Maraboli
Let's face it, changing any part of yourself is never easy.  In fact, it can be downright frightening!  The possibility is always there of which you'll realize sooner or later that the amount of pain and hardship you put yourself through by staying where you are and not changing, is far more agony than the effort to change any of your habits or adopting new lifestyle changes.  
Since my weight loss journey began I have dropped just over 100lbs of body fat,  completely reshaping not only my body, but a very challenging feat: Altering my self-image.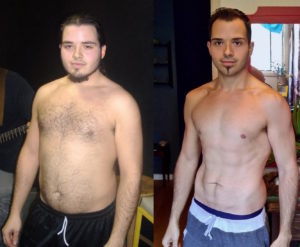 What Is Life Without Challenges?
I feel that one of the purposes to be alive is to move forward.  To transform, learn and become an incredible human being; to share our knowledge and gifts with the world.
In sharing this journey of just one of the challenges that I've gone through in life; I hope to inspire you.
Those of you that can relate to the pain and struggle that it is to be overweight.
To plant a seed within your conscious mind so that with your own perseverance and abilities you can create change.
Check out my weight loss transformation video on YouTube.
US News & World Report presented a special issue February 28, 2005, entitled,
The Secret Mind, featuring and article, How Your Unconscious Really Shapes Your Decisions
.