L theanine may very well be the closest thing to experiencing the benefits of meditation in a capsule.  I say this because, while its effects can seem subtle, having a calmer mind clear of anxiety can make a world of difference in your day.
Being the most potent nootropic compound within green tea, L theanine has been backed by tons of scientific research.  As such, its popularity continues to rise with people looking to maximize their brain's health.
In terms of benefits, there are tons and I've broken it down into the following five to help inform you about them.
 1. L-Theanine Reduces Stress & Anxiety Levels
Have you ever noticed how a cup of matcha or green tea can have such calming relaxing effects?
Theanine achieves this by blocking your brain's glutamate receptors.  The result is an indirect increase in the production of the relaxing neurotransmitter GABA.
This combination provides a double whammy of calming and anti-anxiety effects.  Resulting in a lowered heart rate and reduced blood pressure.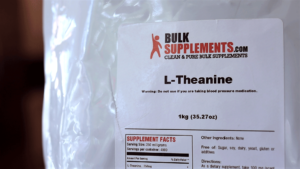 For those of you that want to know about any dangers with theanine,
I'll save you the trouble.
The only warnings I've ever come across in my 5+ years of taking it are
for people using blood pressure medication.
2. L-Theanine can Help With Depression
Calming and reducing anxiety levels can have a great impact if you experience depression.
Aside from altering the brains' GABA to glutamate ratios; theanine has also been shown to boost levels of serotonin and dopamine in your brain.   Undoubtedly, these neurotransmitters positively influence your mood, sleep, and energy levels.
In contrast, some anti-depressant medications that try to enhance your GABA levels also produce drowsiness.
This is where theanine really shines.
It has this incredible ability to relax the mind without making you feel tired and drowsy.
3. Theanine Increases Your Creativity
Within thirty to forty minutes of ingesting theanine, it passes through the blood-brain barrier triggering the production of alpha brainwaves.  This induces a state similar to that experienced via meditation where you're in a relaxed yet focused state of mind.  This allows you to maneuver around unwanted thoughts and distractions to stay focused on your work.
Nevertheless, when you're stressed your mind isn't going to prioritize being creative over your well-being.  The result leading to distractions and feeling scattered.
This makes theanine a very powerful tool to help us to better control our state of mind.
Check out this video I made if you want to know more about brainwaves and how early morning smartphone use impacts the alpha wave state.
4.  Increases Your Sleep Quality
Getting consistent quality sleep is like a "one-size fits all" healing tool for so many functions in our body.
The processes through which theanine balances your brain's chemistry can lead to falling asleep quicker and deeper.  It's a simple bi-product of its anti-anxiety effects that aid in promoting relaxation.
Equally important,  when our sleep quality increases it can result in needing less of it.  So those of us that either sleep poorly or not enough can really benefit from this.
5.  Neuroprotective Capabilities
In recent years, numerous studies have shown that theanine has neuroprotective effects.
Along with being equally similar to the structure of the abundant glutamate molecule; theanine competes for the binding sites of your brain's glutamate receptors.
By temporarily blocking this receptor it reduces oxidative stress that glutamate can induce.  Which in turn, promotes an anti-oxidant like effect.  Though in more so of an indirect manner.
This results in reducing brain degeneration!  And studies are further going on as to how this can aid in preventing age-related brain diseases such as Parkinson's, Alzheimer's, and Dementia.
For all the Coffee Lovers
Last but not least, I've got one more thing that's sure to put a smile on your face.  The simplest way to include theanine into your lifestyle, and optimize the effects of the world's most popular beverage.
When combined with caffeine, theanine has been scientifically proven to amplify caffeine's positive effects while reducing its negative impact.
The two work synergistically to improve cognitive performance along with increasing alertness.  And since theanine relaxes the mind promoting alpha waves, this can further help you focus your attention and reduce your susceptibility to distractions.
Typically, a 2:1 ratio of theanine to caffeine will help you experience these benefits while halting the coffee crash so many of us experience.
Bulk VS Capsule
While it's well worth it, theanine can be a bit pricey, unless of course, you're buying it in bulk.  You probably don't need to get a kilo of it but it's a way to save a bunch of coin if you share it with some friends.
The best price vs value/quality I've found is from BulkSuppliments Use Code:  NEXTLEVEL during checkout for an additional 5% off your whole cart!
For your viewing pleasure: